Organizations today are rattled with managing their infrastructure and application performance metrics. This is only exacerbated by the myriad of technology and tools in the market that now exists. How can Operations teams keep up with increasing demand of managing larger and ever-changing workloads under shrinking budgets? That's a question which many organizational teams are left to answer and find a solution that fits their needs. Are you faced with this challenge?
One step that can get your team closer to the solution is to genericize your processes independent of tools, so that teams can follow a unified process and gain end to end visibility in to their entire infrastructure – regardless of the underlying technology that is deployed. Closed-Loop-Incident-Process is one such operational process, that has tremendous benefits when coupled with automation and tools consolidation.
A Closed-Loop-Incident-Process
A Closed-Loop-Incident-Process, or CLIP for short, is when you automatically take actions on alerts on your Network Operations Center (NOC) unified console including auto remediation, while integrating the remediation process with your ticketing system (e.g. Incident tickets). It does not matter whether you use one of the APM tools, or infrastructure monitoring tools, and the process holds true for any and all IT Services Management (ITSM) and Continuous Management Data Base (CMDB) systems you have. Once your teams agree on an end to end process that works for their environment and organization, you can begin the work of integrating the various tool sets you have to achieve the end goal.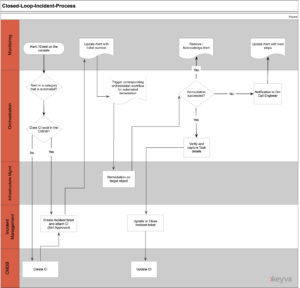 It is important to keep your CMDB accurate and current, and many organizations end up spending a lot of cycles and redundant time trying to achieve that state. Eventually, organizations can use the CIs and CI relationships within the CMDB to implement event correlation and operational intelligence that can proactively reduce alerts that would've been classified as noise.
Check out the CLIP framework here (fig 1a) here.
How Kevya Can Help
Keyva has helped several customers integrate and automate their operational processes to achieve time and cost savings. Keyva can help genericize the many different processes you may have and integrate tool sets to achieve end to end use case automation, with the end goal of achieving Operational Intelligence so the operations teams can put time towards automating complex remediation tasks, rather than on repetitive manual tasks. Are you ready to automate? If you have any questions, or feedback, please reach out to a Keyva associate at info@keyvatech.com
———————————————————————————————————————————————————————————————–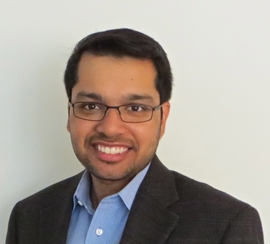 Anuj Tuli serves as the Chief Technology Officer for Keyva. In his current role at Keyva, Anuj helps organizations adopt IT Process Automation, Containers, implement CI/CD methodology, modernize their applications, and develop an automation framework which supports end-to-end application lifecycle – planning, development, testing, deployment, and operations.
He joined Keyva from Tech Data where he was the Director of Automation Solutions. In this role, he specialized in developing and delivering vendor-agnostic solutions that avoid the "rip-and-replace" of existing IT investments. Tuli has worked on Cloud Automation, DevOps, Cloud Readiness Assessments and Migrations projects for healthcare, banking, ISP, telecommunications, government and other sectors.
During his previous years at Avnet, Seamless Technologies, and other organizations, he held multiple roles in the Cloud and Automation areas. Most recently, he led the development and management of Cloud Automation IP (intellectual property) and related professional services. He holds certifications for AWS, VMware, HPE, BMC and ITIL, and offers a hands-on perspective on these technologies.
Like what you read? Follow Anuj on LinkedIn at https://www.linkedin.com/in/anujtuli/