A Keyva Executive Blog Post by Jaime Gmach
I was reviewing an executive summary from the recent Gartner 2019 Symposium/Xpo in Orlando and was struck by a very logical, but occasionally overlooked message from the keynote centering on the importance of balance in a digital transformation strategy. The theme of Leading in a Digital Society correctly emphasized the importance of technology leadership in the continued transition to a digital society while recognizing the importance of maintaining a balance on the journey.
Gartner has coined term "Techquilibrium", which it defines as the ideal mix of traditional and digital for your enterprise. My interpretation is that businesses have reached an inflection point on their digital transformation journey in which many have come to realize that there is a balance in what the ideal outcome looks like for their unique environment. In other words, one size does not fit all.
It is also the balance point that applies to many elements of leadership in our new digital world, including, how you make decisions; how you lead; how you serve customers; and ultimately, how your organization takes its place in our emerging Digital Society.
The keynote message is that leaders are faced with the paradoxical need to satisfy the "AND" dilemmas facing our world. Examples include: cut AND grow; stability AND change; physical AND digital; analyze AND execute; traditional organization AND digital organization; and many others. You often have to do both to excel in today's world. My personal takeaway from the keynote is that there is so much information for technology leaders to absorb that it is sometimes difficult to not lose sight of the forest for the trees. Staying focused on striking a balance of traditional and digital capabilities to provide maximum value to your unique business will help on the journey.
---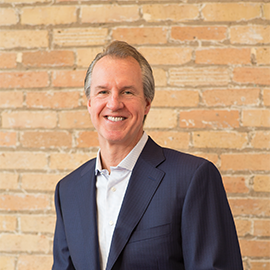 Jaime Gmach co-founded Evolving Solutions almost 25 years ago, and continues to lead the company today as its President and CEO. Together with the extended Evolving Solutions team, Jaime has built the company into a leading technology solution provider focused on helping enterprise clients modernize and automate their mission-critical infrastructure to support digital transformation.
In conjunction with a continued focus on the delivery of modern infrastructure solutions, Evolving Solutions is investing in the development of new and innovative business practices to support clients' success on their journey toward a hybrid cloud operating model.
In addition to Evolving Solutions, Jaime founded Keyva, a services organization focused on cloud automation, orchestration, and DevOps in 2018.
One of Jaime's true passions in life is giving back to the communities of Minneapolis and St. Paul. He has led multiple Evolving Solutions and Keyva philanthropic initiatives in which the companies provided technology, financial and labor support to charitable organizations throughout the region.
Like what you read? Follow Jaime on LinkedIn at: https://www.linkedin.com/in/jaimegmach/
Join the Keyva Community! Follow Keyva on LinkedIn at: